Commissioning
After correct wiring and setup, the Kobold can be paired as dimmable light to Zigbee 3.0 gateways of various Home Automation systems.
Wiring
Attention danger to life!
Disconnect the power supply before putting the unit into operation!
Installation may only be carried out by qualified personnel!
The Kobold can be connected with or without a push button, as shown in the following wiring diagrams:
Connect Kobold with push button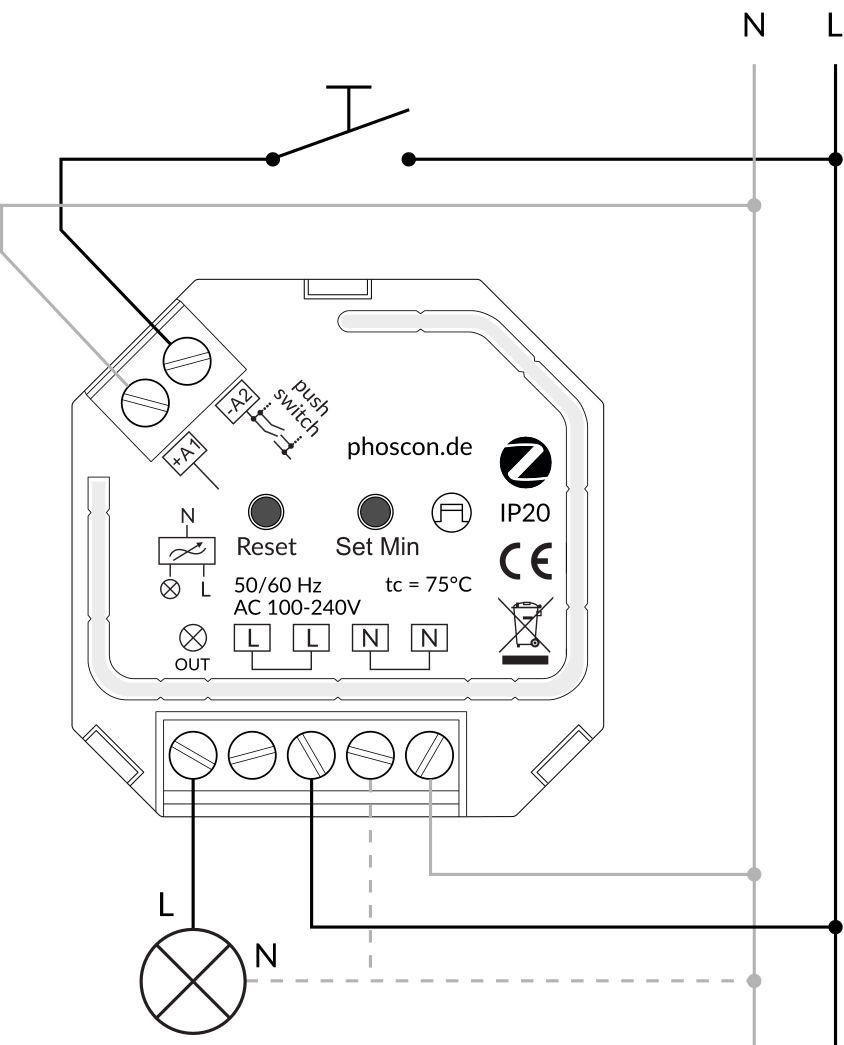 Connect Kobold without push button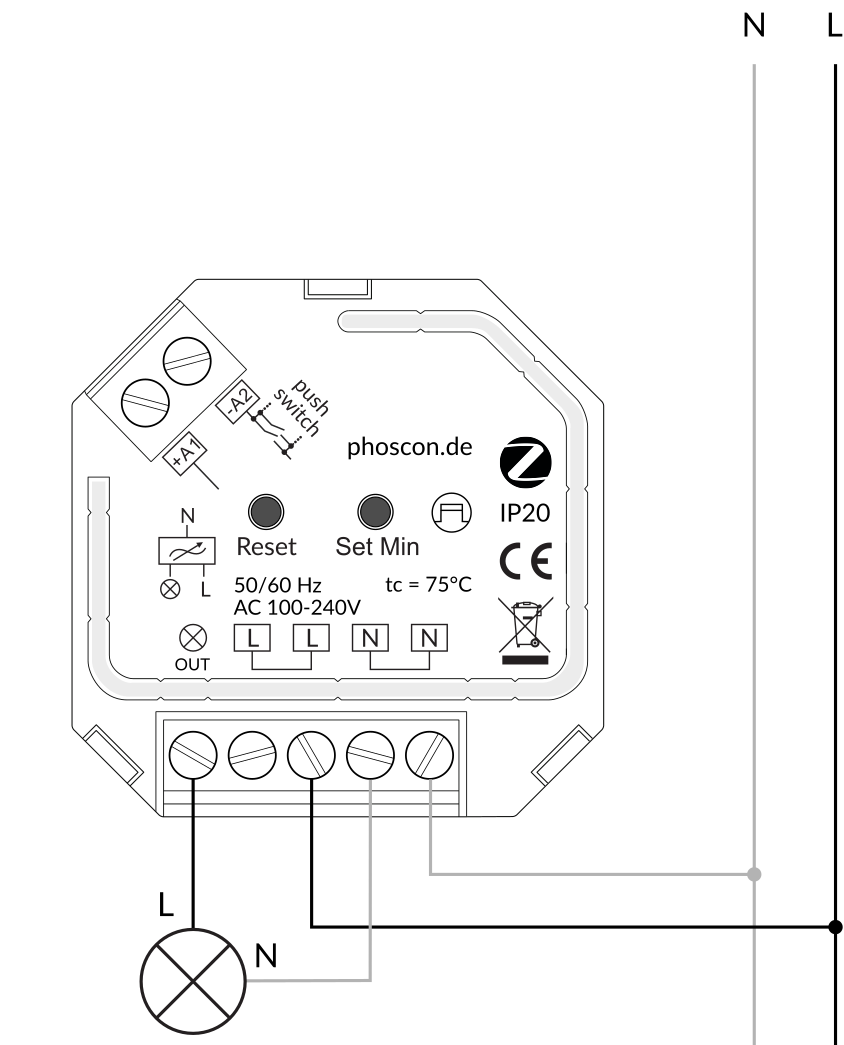 Phoscon App
Important: deCONZ version v2.13.3 or newer is required.
The Kobold is paired in the same way as Zigbee lights. Detailed instructions can be found in the Phoscon App documentation →
Open sub page Devices → Lights
Start the device search via .
Press the Reset button on the back of the Kobold briefly 5 times.
The Kobold is added as a dimmable light.
After pairing, the Kobold can be added to a group as a dimmable light and controlled.
Control of additional Zigbee lights
With a connected push button, the Kobold can control other Zigbee lights.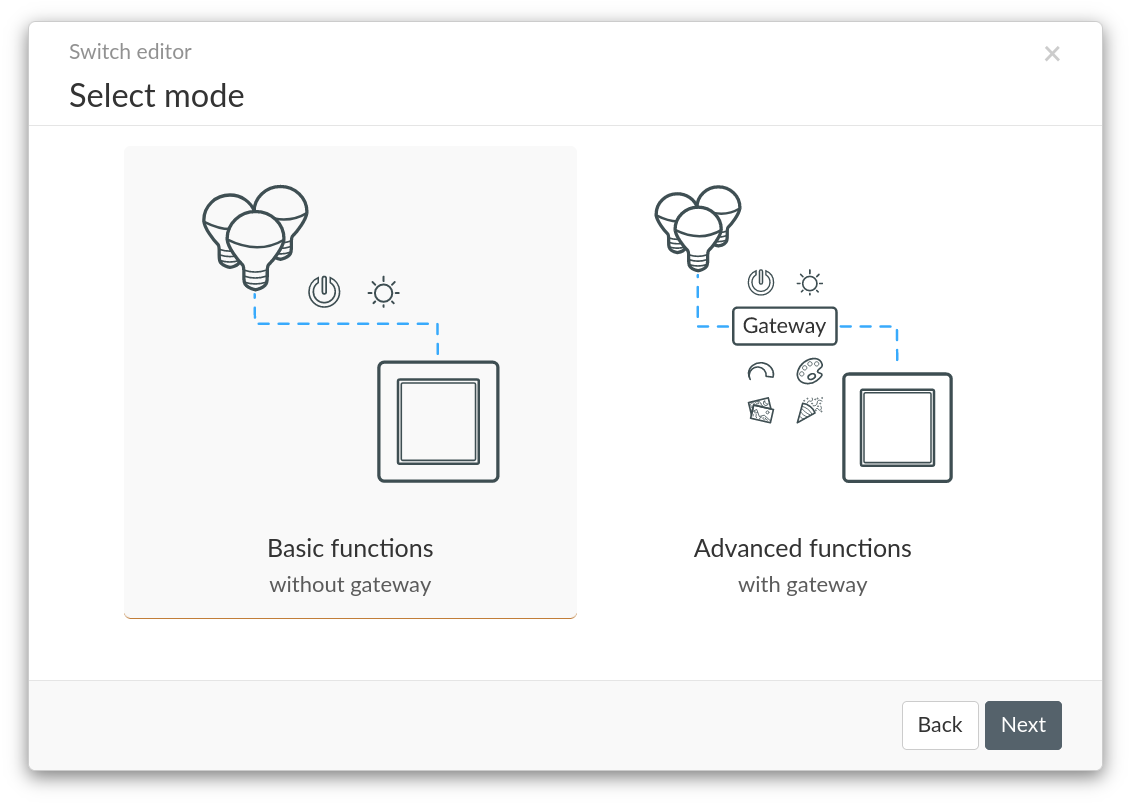 The configuration is done via the Phoscon App switch editor and is described under Phoscon App Documentation / Switch Editor →.
Dim level
When using LED or halogen lamps it may happen that the lights connected to the Kobold cannot be dimmed down to the value zero due to the used dimming process. This is not a defect in the product. A minimum brightness of the lamp can be set as a solution.
Dim the Kobold down until the light starts to flicker.
Gradually dim the lamp up until flickering is no longer visible.
Press the Set Min button until the connected light flashes to confirm.
This limits the dimming range between 100% and the set value.
Reset of minimal brightness
Dim up the Kobold to 100% and press the button Set Min for at least 3 seconds. This will reset the setting.
Note: a factory reset does not reset the minimum brightness.
Philips Hue Bridge
Open Philips Hue app

Go to device search

Start searching.

Press the Reset button on the back of the Kobold briefly 5 times.

… Kobold will be added as a dimmable light.

Assign the Kobold to a room and the pairing process is complete.
Amazon Alexa
Open Amazon Alexa app

Add a new device

Connect the Kobold as a switch. Select Other for the brand and start the device search.

Briefly press the Reset button on the back of the Kobold 5 times.


Finally, add the Kobold to a group to be able to control it together with other devices.